Miniature pumps, miniature valves & fluidic components for microfluidics
Components and modules with smallest dimensions and highest possible performance.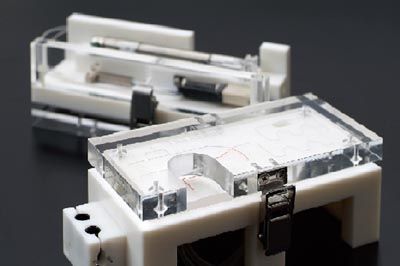 Description
Use our experience to integrate fluidic components in your microfluidic application. Talk to us at the concept stage of your systems so that we can help you design and select the appropriate components as adequately as possible.
Starting with the design to finished prototypes, we and our partners will fully support you with our knowledge and we are happy to assist you with our manufacturing possibilities.
Please do not hesitate to contact us.
Microfluidic Module 1
In this module, a plastic chip is pre-filled with a reagent.
This module consists of the following components:
Ultra miniature solenoid diaphragm-separated valve
Microfluidic Module 2
The basic analysis processes are shown in this module. Starting with injecting the sample, as well as mixing with the reagent until detection. A plastic chip with Y channels is used here. The sample is supplied by a miniature peristaltic pump and is mixed via an electroosmotic pump with the pre-filled reagent. The chip was developed as a disposable chip and can be easily changed at the module.
This module is constructed using the following components:
Microfluidic Module 3
In this module, the supply and mixing of two liquids on a film chip of only 225 µm in thickness is realised. The mixing ratio can be controlled directly by controlling the flanged ultra-miniature solenoid valves.
This module consists of the following components:
Ultra miniature diaphragm-separated solenoid valve