CEME system - portable system for the automated replacement of cultural media
Portable Culture Medium Replacement System (CEME-System)
Description
The CEME system is a portable device for the automatic replacement of cell culture media. This product is used in applications for the continuous change of medium in 6-well microtiter plates, such as hiPSC (human induced pluripotent stem cells) or embryoid bodies (EB) of mouse iPS cells.
Due to its compactness and battery operation, it can be used in the incubator on the one hand and placed under a microscope on the other.
Automatic medium replacement
The culture medium is replaced automatically at a specified interval (3, 6, 12, or 24 hours)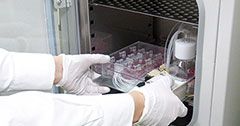 Can be used in an incubator
The system can operate continuously for up to 7 days with batteries, and be placed in an incubator without any wiring.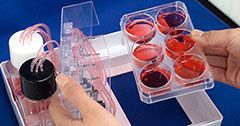 Accommodates a standard 6-well plate
A standard 6-well plate can be used, which reduces running cost and minimizes environmental changes resulting from introducing the system.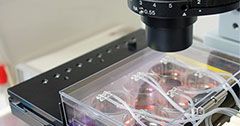 Observable on a microscope
The 6-well plate can remain in the system and be placed on a microscope stage when you observe the cells, which also reduces environmental changes.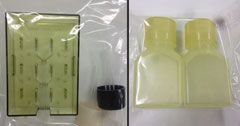 Disposable
All system components that are exposed to the medium can be replaced.
Case 1. hiPSC (Human induced Pluripotent Stem Cells)
Colony growth was successfully observed for 4 days after passage (engraftment), during which the culture medium was automatically replaced by our system.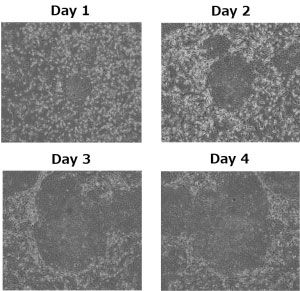 Experiment Condition
Cells: 253G1 Human iPS cells (NHDF reprogrammed by 3 factors; Oct3/4, Sox2, Klf4)
Feeder Cells: Mitomycin C treated SNL76/7 cells
Medium: DMEM-12 (including KSR, NEAA, PSG, 2-ME, bFGF)
[Data courtesy of Kidoaki S. Lab, Institute for Materials Chemistry and Engineering, Kyushu University (Japan)]
Case 2. Embryoid Bodies (EB) of mouse iPS cells
iPS cells were cultured in Knockout D-MEM based myocardial differentiation medium using our system, and pulsation of differentiation-inducted cardiomyocytes derived from mouse iPS cells was observed.
[Data courtesy of Fujii T. Lab, Institute of Industrial Science, The University of Tokyo (Japan)]

Spezifikationen (copy 1)
| | |
| --- | --- |
| Dimensions | 194mm x 228mm x 140mm (W x D x H) |
| Weight | approx. 500 g (without medium) |
| Power supply | AA batteries |
| Usable microtiter plates | 6-well microtiter plates (e.g. Thermo Fisher Scientific Inc.:NUNC # 140675 | Sumitomo Bakelite Co., Ltd.MS-80060) |
| Initially required medium volume (per well) | 3ml (can vary slightly, depending on the microtiter plate) |
| Volume replaced (per well) | 2.7 ml (can vary slightly, depending on the microtiter plate) |
| Replacement interval | 3h | 6h | 12h | 24h (adjustable) |
| Wetted materials | Silicone, stainless steel SUS304, PP |
| Capacity bottles | 125ml |