Rotary valves - sample collection, sample loop injection, selection
Low-Pressure Rotary Valves play a crucial role in optimizing fluid control and controlling sensitive samples in various life science applications. These valves are designed to handle liquids and gases precisely, making them ideal for tasks where minimizing sample carryover is critical. Our rotary valves are available in various designs with very low internal volumes.
Information about the rotary valves
The special positioning technology (encoder) with signal transmitters on the pump heads, enables channels with a diameter of 0.5 mm, internal volumes from 2.32 µl (from port connection to port connection) and carry over volumes from 0.55 µl (from port connection to port connection). Highly inert materials (PCTFE, PTFE) allow for their use with aggressive fluids. The miniature version of the rotary valve requires only a USB power supply. Due to its size, it is also suitable for mobile applications and microfluidics.
The valve models are suitable for the low pressure range up to 10 bar. They are available in different versions e.g. for the use in flow selection, flow distribution, sample collection and sample loop injection. The standard rotary valves are available with 1/4-28 UNF (flat-bottom) thread, communication can be realized via serial or I2C.
Advantages of the rotary valve technology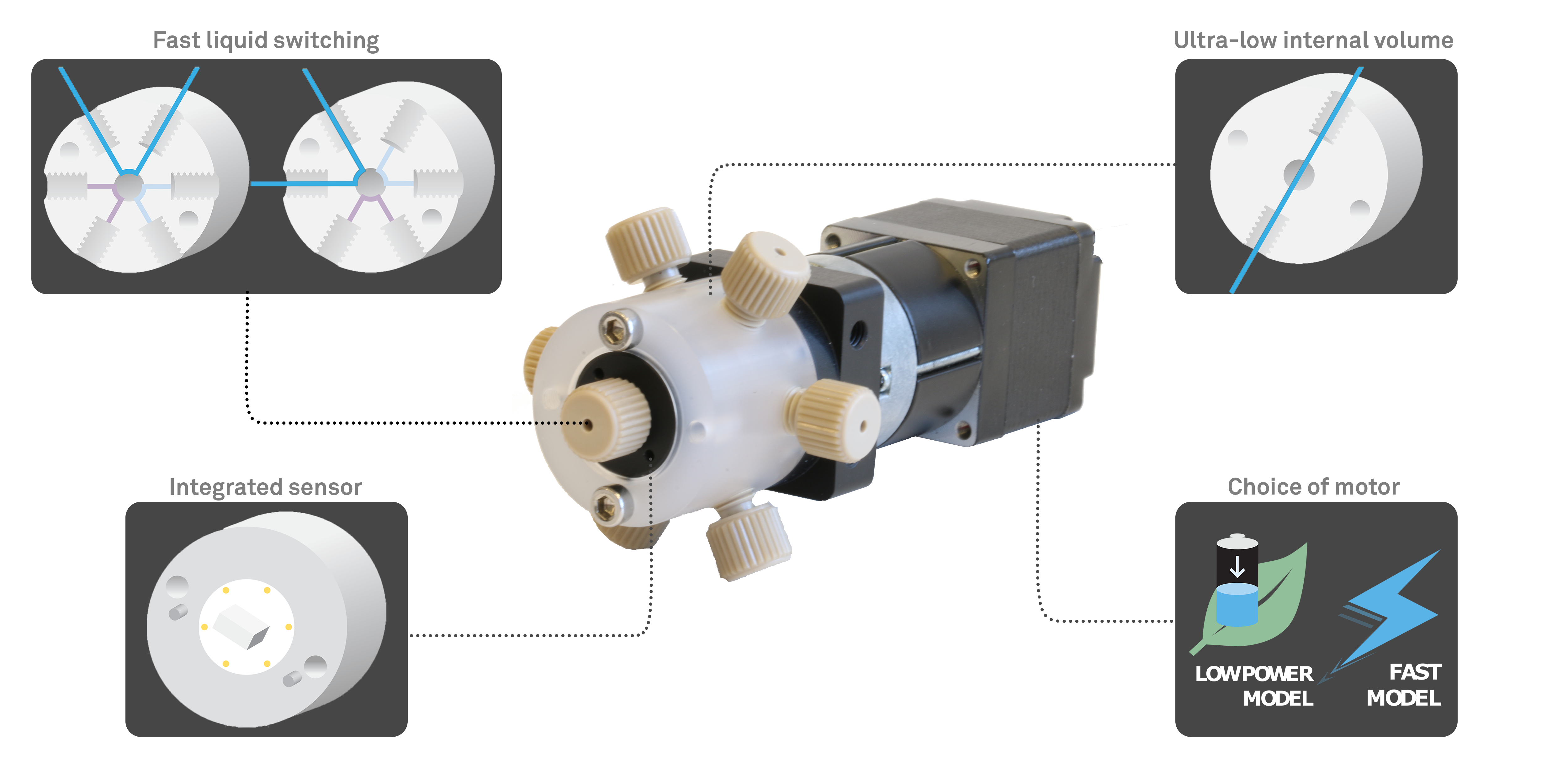 Fast media change with very little transmission volume
Low-diameter channels minimise the internal volume in the valve head and reduce the carry over volume between the port connections. This allows for a rapid switching between different media.
Very low internal volume
Channels with a diameter of only 0.5 mm allow a small internal volume of only 2.3 to 2.9 µl (from port connection to port connection) and a very small carry over volume.
Integrated position sensor (encoder)
Each rotary valve has an integrated position sensor (encoder), which allows for very precise positioning of the valve head. When starting the valve, an automatic position detection allows the detection of the current valve position - also called "homing".
Different motor configurations: miniature motor and fast rotating motor
The miniature low-power rotary valve version P200-O is operated using USB voltage and is specially designed for low power consumption and portable applications. This version is also used for the miniaturisation of applications and in microfluidics.
The high-speed rotary valve P201-O offers a solution that allows fast switching between the individual channels with a rotation speed of 400ms for a 180° rotation.
Valve head configurations
Valve head configurations are available in versions for sample collection, sample loop injection or channel selection. Customer specific solutions are also possible, please contact us. Here are some examples of valve head configurations. More information can be found in the valve head section.
Low-Pressure Rotary Valves: Enhancing Precision in Life Science Applications
Cell Sorting and Flow Cytometry
Flow cytometry and cell sorting require precise control of fluid flow to analyze and isolate cells based on specific characteristics such as size, fluorescence, and surface markers. Low-pressure rotary valves are utilized to regulate the flow of sheath fluids and samples within these instruments. This ensures the gentle handling of cells and allows for accurate sorting and analysis in immunology, oncology, and stem cell research.
Microfluidics and Lab-on-a-Chip Devices
Microfluidic systems and lab-on-a-chip devices often operate at low pressures to manipulate small volumes of samples and reagents. Low-pressure rotary valves are essential components for controlling fluid flow within these devices, enabling a wide range of applications, including point-of-care diagnostics, single-cell analysis, and drug screening.